Cheat Sheets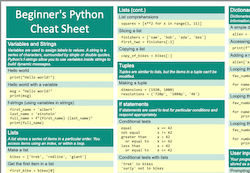 Cheat sheets can be really helpful when you're trying a set of exercises related to a specific topic, or working on a project. Because you can only fit so much information on a single sheet of paper, most cheat sheets are a simple listing of syntax rules. This set of cheat sheets aims to remind you of syntax rules, but also remind you of important concepts as well.
You can download all of the sheets in a single color document. You can also download a zip file containing all color and printer-friendly black and white versions.
The full set includes:
An overview sheet covering a wide range of topics
A series of sheets that focus on the fundamentals of Python
A series of sheets focusing on specific libraries: pytest, Pygame, Matplotlib, Plotly, and Django
A sheet focusing on Git basics
These sheets are completely free to use and share. I originally wrote them as a way to support readers of Python Crash Course, but they've proven useful to people working through a wide range of Python learning resources as well. (If you find them useful and want to see more of my writing on Python, check out my ongoing work at Mostly Python.)
---
Individual Sheet Descriptions
Overview Sheet
Beginner's Python Cheat Sheet

Provides an overview of the basics of Python including variables, lists, dictionaries, functions, classes, and more.
Python Basics
Project-Focused Sheets
---
If you find any errors, please feel free to get in touch:
Email: ehmatthes@gmail.com
Twitter: @ehmatthes
Mastodon: @ehmatthes@fosstodon.org